Access, Respect, Consent: Inuit Women and Reproductive Healthcare Services in 2019 – Summary Report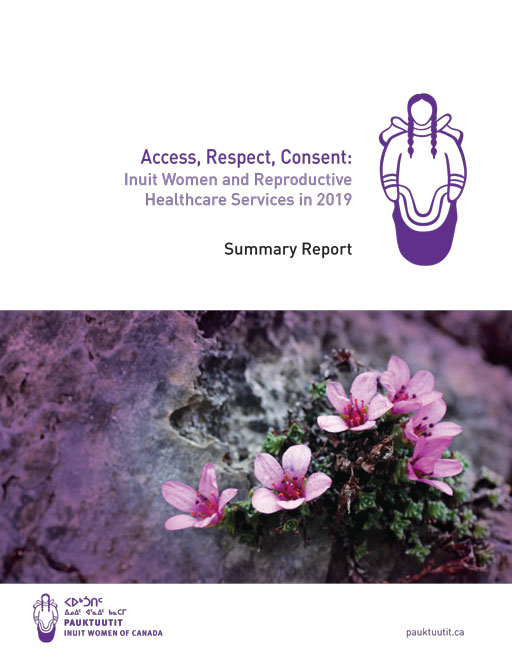 Project Description
The knowledge generated in this report is based on a one-year study that included an environmental scan and community visits across Inuit Nunangat. We covered Inuit women's access to reproductive healthcare, from sexual and reproductive health education and information, temporary and permanent contraception, pregnancy options, pre- and post-natal care and birthing. This report is based on the belief that sexual and reproductive health and rights are fundamental human rights, and Inuit women must have equitable access and care.
The research was headed by Pauktuutit Inuit Women of Canada and with the support of Dianne Kinnon (Kinnon Consulting). We are appreciative to the many individuals and health service providers who contributed their insight, knowledge, and expertise to this report. This important work would not have been possible without them and their willingness to discuss very personal and sometimes disturbing information.
First and foremost, we extend our most sincere gratitude to the women from Rankin Inlet, Arviat, Kuujjuaq, Inuvik, Iqaluit and Nain who volunteered to participate in interviews and community consultations. The information they bravely shared on Inuit women's experiences as it relates to sexual and reproductive health and rights is necessary to achieving gender equality by ensuring that all Inuit women and girls can exercise their rights free from coercion, violence, discrimination and abuse.
As well, we are extremely grateful to the 22 sexual and reproductive health care service providers who contributed information on the challenges and constraints facing Inuit women and girls as they relate to their sexual and reproductive health needs and actualizing their rights.
Funding for this research was provided by the First Nations Inuit Health Branch of Indigenous Services Canada.
Project Details
Department Health
Year Published 2020