Addressing Gendered Violence against Inuit Women: A review of police policies and practices in Inuit Nunangat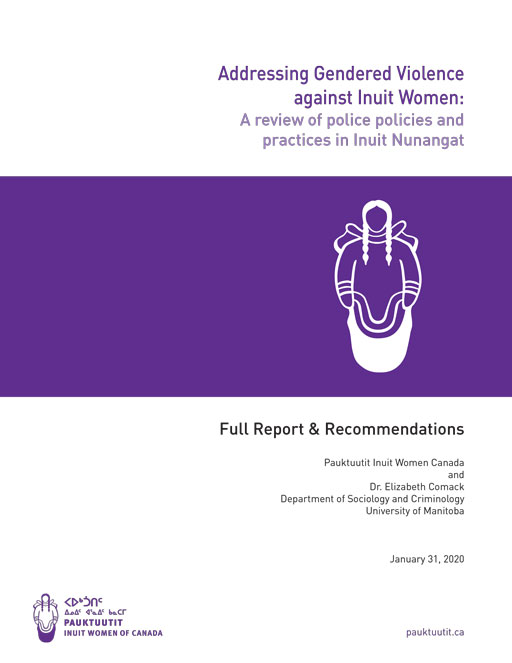 Project Description
We are grateful to the many individuals and organizations who had a role in bringing this project to completion.
First and foremost, we extend our most sincere gratitude to the 45 courageous Inuit women— from all four regions of Inuit Nunangat—who volunteered to participate in this study. Without their fortitude and determination to improve their safety and the safety of women in similar circumstances, this research would not have been possible. We remain truly humbled and tremendously appreciative that they chose to share their experiences with us. 
As well, we are extremely grateful for the contributions of the 40 social service providers and police officers who took time from their demanding schedules and generously agreed to share their insights and knowledge about the successes and challenges encountered in responding to gendered violence against Inuit women in Inuit Nunangat.
This project also benefitted enormously from the input of the members of the Project Advisory Committee:
Yvonne Niego, Deputy Minister, Family Services, Government of Nunavut
Tracy Ann Evans-Rice, Status of Women Coordinator, Nunatsiavut Government
Donna Rogers, Executive Director, Inuvik Transition House Society
Lizzie Aloupa, Inuit Rights Officer, Makivik Corporation
Heloise Chartrand, Family Violence and Sexual Abuse Agent, Nunavik Board of Health and Social Service
Peggy Day, After-Care Coordinator, Inuvialuit Regional Corporation
We also acknowledge the indispensable support from the Community Research Liaisons in each of their respective regions who provided us with guidance on culturally appropriate strategies for community engagement and data collection. In addition, we are grateful to the elders, interpreters, and mental health support workers in each of the communities we visited who contributed their expertise, kindness, and compassion.
Samantha Michaels, Senior Research and Policy Advisor at Pauktuutit, was indispensable in her role as the point person for the project. In addition to conducting the interviews in Inuvialuit and Nunavik (as well as several more by telephone), Samantha did a marvellous job of ushering the project through its various stages (including proposal writing, ethics and research licensing processes, compiling the interim report to Public Safety Canada, connecting with Project Advisory Committee members, reaching out to potential participants by email, and assisting with the final report).
Christine Lund, Research and Policy Advisor at Pauktuutit, conducted the interviews in Nunavut and Nunatsiavut with sensitivity and care. Loren Bresch, a student in the Department of Sociology and Criminology at the University of Manitoba, ably took on the important task of conducting the literature review. And Kathy Jaworski did an admirable job (and in record time) of transcribing all of the interview recordings.
Funding for this project was provided by the Policy Development Contribution Program of Public Safety Canada, as well as in-kind contributions from Pauktuutit Inuit Women of Canada and the University of Manitoba.
Project Details
Department Violence and Abuse Prevention
Year Published 2020