Following the special Board of Directors meeting on March 9, 2023, we are pleased to confirm our new leadership team.
Gerri Sharpe from Yellowknife, NWT, was re-elected and will continue as President.
Nancy Etok from Nunavik, Ungava, remains in her role as Vice-President.
Charlotte Wolfrey from Nunatsiavut was acclaimed as the Secretary-Treasurer.
Gerri Sharpe
President
Gerri is the eldest daughter of Mauti Qitsualik, born in Yellowknife and who's home town is Gjoa Haven. She has lived all across Canada, and now calls the NWT home.
Mother of two and grandmother of three, she has been an advocate for women and children in the NWT, serving on the Inuvik Transition House Board for over seven years. When living in Inuvik, Gerri spent many years on the Inuvik District Education Authority, the Beaufort Delta Education Council, five years with the NWT Human Rights Commission and many working groups.
Gerri is also an artist who works with seal skin, muskox wool and beads to create traditional clothing and art. She also spins her own qiviut from wool harvested from muskox.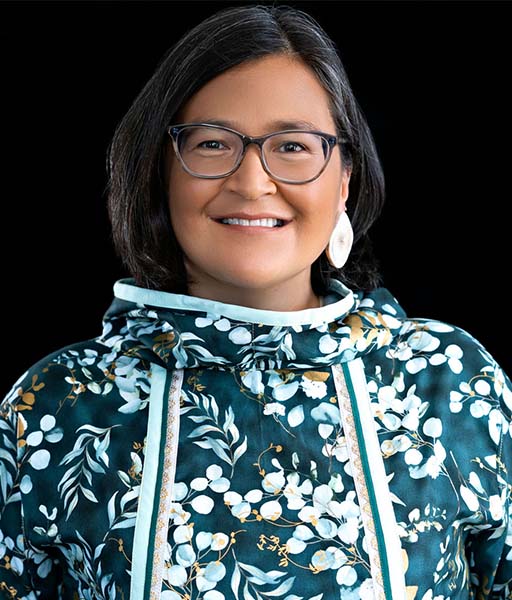 Nancy Etok
Vice-President
Representing Nunavik, Ungava, Nancy Etok is the vice-principal at Ulluriaq School in Kangiqsualujjuaq, Quebec. Empowering youth is one of her main goals. She loves being connected to the land and enjoying the incredible place where she lives. Nancy particularly enjoys ice fishing.
Nancy feels honoured to take on the Vice-President's role at Pauktuutit.
She feels that she and the other women will be able to pass along the unique Inuit strength, resilience, and pride to the youth in our communities.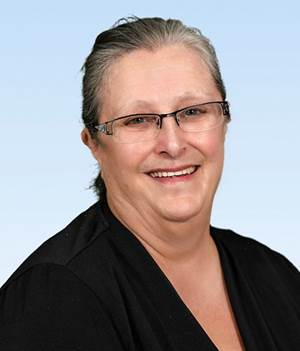 Charlotte Wolfrey
Secretary-Treasurer
Charlotte Wolfrey (Pottle) was born on the land in the Rigolet area. She is most proud of being a wife, a mom to her four children and a grandmother to her grandchildren.
Charlotte is known mostly throughout Nunatsiavut, Newfoundland and Labrador, and Canada for her work in advocacy for the rights of women and children as well as her dedication to speaking against family violence.
Charlotte has served on regional, provincial, national and international committees, including Canadian Inuit Circumpolar Health Society, Atlantic Aboriginal Health Research, Provincial Advisory Council on the Status of Women and many local/regional groups and organizations. Charlotte is a member of the National Family Advisory Circle and is recently retired.
In 2012, Charlotte was selected as an Honorable Witness for the Truth and Reconciliation Commission. She was given the honour of receiving the Queen Elizabeth II Diamond Jubilee Medal in 2013.
Urban, Happy Valley-Goose Bay – Catherine Mitsuk
Nunatsiavut – Charlotte Wolfrey
Nunavik, Ungava – Nancy Etok
Nunavik, Hudson – Sara Idlout
Nunavut, Iqaluit – Elisapee Sheutiapik
Qikiqtani South – Lois (Looee) Mike
Qikiqtani North – Vacant
Kivalliq – Esther Aglukark-Powell
Kitikmeot – Josephine Tucktoo
Inuvialuit – Kourtney Wolkie
Urban, Yellowknife – Gerri Sharpe
Urban, South-East – Martha Flaherty
Urban, South-West – Lillian Lundrigan
Youth, Inuit Nunangat – Iselena Natsiapik
Youth, Urban – Paige Kimiksana-Kreps
President – Gerri Sharpe, Urban, Yellowknife
Vice-President – Nancy Etok, Nunavik, Ungava
Secretary-Treasurer – Charlotte Wolfrey, Nunatsiavut