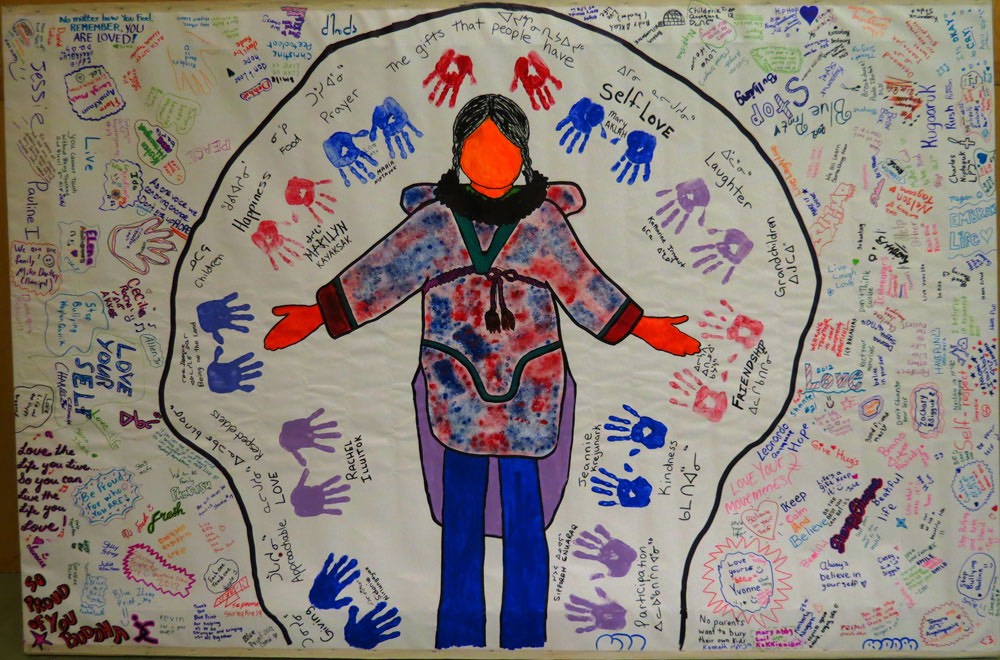 An Intergenerational Healing Project
Pauktuutit Inuit Women of Canada in partnership with BluePrintForLife and the community of Kugaaruk, Nunavut, delivered a five-day intensive workshop that focused on Inuit adult survivors of Residential Schools and the intergenerational impacts of Residential Schools. The parallel streams of workshops were for adults and elders, ran by Pauktuutit, and for youth ages 14-21, run by BluePrintForLife. Both groups met together for the last two days.
Pauktuutit conducted a workshop that focused on adult survivors of Residential Schools and issues related to child sexual abuse. Eight adult survivors from Kugaaruk shared their experiences during the workshop.
BluePrintForLife conducted a Healing through Hip Hop workshop for the youth, with a focus on the residual impacts that Residential Schools have had on them and their families. BluePrintForLife runs "Social Work Through Hip Hop" programs throughout Canada's North and Canada's inner cities. They run culturally-appropriate programs designed for Inuit youth that are founded on hip hop dance and centered on community needs.
There were three main objectives covered during the course of the project. They were to:
Introduce concepts of healing and self-care to youth and adults;
Create safe places (sensitive to trauma) and new lines of communication about the impacts of Residential Schools between survivors and their teenage children to develop new healing models and unique approaches for different generations; and
Make healing fun through creating A Community Story.
The last two days both groups came together to show the resilience of the community through creating A Community Story. It was an artistic expression of the thoughts and feelings they had about their experiences and recovery. Stories included dance, music, spoken word, fine arts, and performances. A Community Story was then shared as a performance and art showcase to the community.
The workshops took place at Kugaaruk, Illiniarvik school, on October 15-19, 2012.