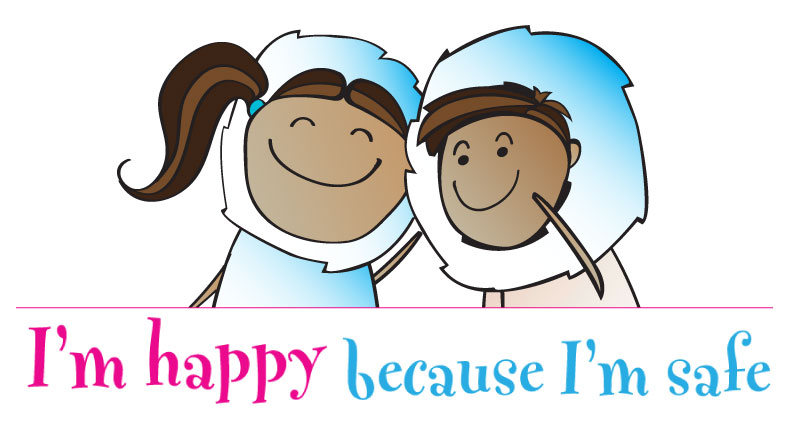 I'm Happy Because I'm Safe
Phase 1
Family violence and abuse are serious, ongoing issues that afflict every Inuit community in Canada at rates much higher than those in the south. Children are one of the most vulnerable groups to become impacted by violence and abuse or become victims. Data collected by the Qanuippitali Inuit Health Survey in Nunavut (2012), indicate that:
31% of respondents experienced severe physical abuse as children; and
52% of women and 22% of men reported having experienced severe sexual abuse during childhood.
Although some services exist, the needs of Inuit children are not currently being met in the areas of mental health services, social services policies and practice, the justice system, shelters, or culturally appropriate services of any kind. Promising practices exist, but there are few and they are not well utilized. Pauktuutit Inuit Women of Canada has been very active in developing awareness campaigns and resources to help communities address family violence and sexual abuse. The I'm Happy Because I'm Safe campaign has been developed to promote the protection of Inuit children and reduce the incidence of violence and child abuse.
Phase 2
Raising public awareness of Inuit children and youth on the issue of online safety has been identified as a priority. Below are some selected results from an informal survey conducted by grade 7-12 students in Kugaaruk, Nunavut in October 2012. Of the 62 participants,
60% of females and 37% of males spend more than two hours a day on Facebook
40% of females and 53% of males agreed with the statement, "I wish my parents had more rules at home"
83% of females and 81% of males want to travel outside of Nunavut
83% of females and 67% of males report being bullied outside of school
71% of all students aged 16 and over have been peer pressured into doing something they didn't want to do.[1]
Through the support and guidance of an advisory committee, the I'm Happy Because I'm Safe – Phase 2 project focused on creating factsheets and public service announcements (videos on YouTube, and audio for radio) to help Inuit better understand how to be safe online.
This project is designed for four audiences including kids ages four to nine, pre-teens ages 10-12, teens ages 13-18, as well as parents and guardians.
It is a first step into raising online safety awareness with the hopes to expand in the future. Please download the four factsheets in the publication section that are available in English and four dialects of Inuktitut. Watch the video PSAs on our Pauktuutit YouTube channel.
[1] Kugaaruk News Club. Kugaaruk Illinnarvik. October 2012.