Let's Talk About Ujarak is a cannabis resource toolkit, guided by Inuit values and created to help Inuit increase their knowledge about cannabis use and how to reduce possible harms. The resources in this toolkit include factsheets, posters, a discussion guide, an assessment tool, and more – all developed from a trauma-informed and strength-based Inuit perspective.
Below you'll find resources for new and expecting parents and youth, as well as general information that can help Inuit to make informed decisions about cannabis. These resources are also freely available to service providers and all members of the community.
Cannabis 101
Cannabis is a plant that produces flowers or buds that when used, can affect a person's mind, body, and mood. Learn more about cannabis products, effects, and potential health impacts.

Information for New
and Expecting Parents
There is still much to learn about how cannabis use affects developing fetuses, babies, and children. Find more information about how cannabis can interact with pregnancy, breastfeeding, and child development, as well as helpful harm reduction techniques.
Information for Youth
Because the bodies and brains of youth are still growing, youth are more at risk to the potential harms of cannabis. Learn more about how cannabis can affect youth as well as tips to reduce the risks of cannabis use.

Discussion Guide
Many factors influence Inuit decisions to use substances like cannabis, including our past experiences, current realities, and our culture. Learn more about these factors and how you can help open discussions around cannabis with your family or community.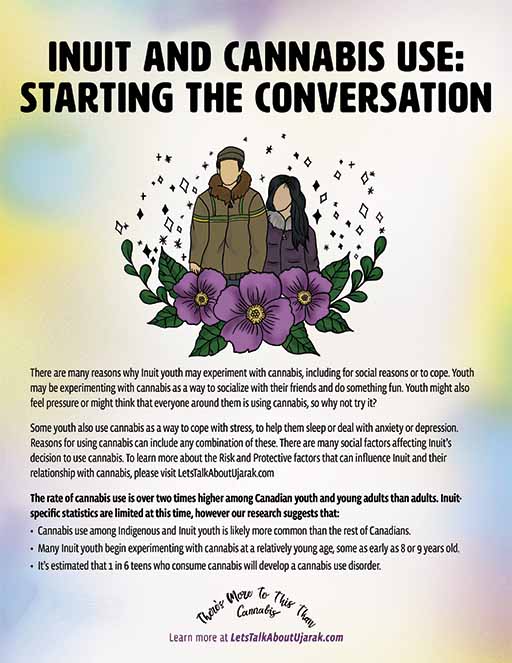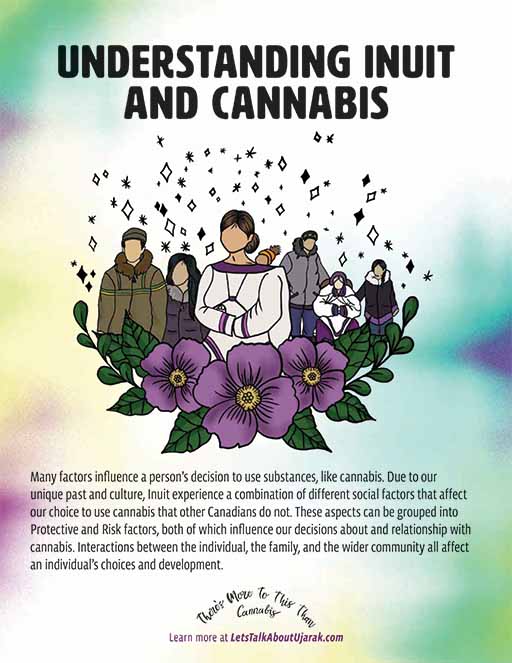 Reflecting on My Cannabis Use tool
The Reflecting on My Cannabis Use tool is a short, anonymous activity designed to help users reflect on their relationship with cannabis, understand any potential impacts on their life, and recommend helpful resources based on their decisions.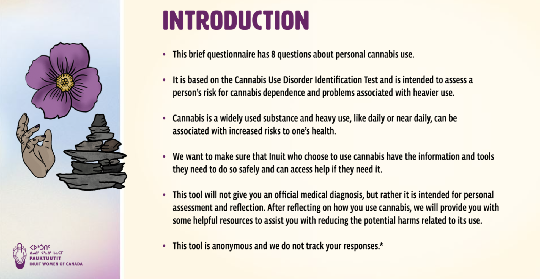 Learn more about our resources for new and expecting parents, youth, and community.
---
Production of these resources has been made possible through a financial contribution from Health Canada. The views expressed herein do not necessarily represent the views of Health Canada.
Le présent ressources a été produit grâce à la contribution financière de Santé Canada. Les opinions exprimées ne représentent pas nécessairement celles de Santé Canada.