Cannabis in our Communities
Congratulations to our Nunavik Youth Poster Contest winners!
Pauktuutit is visiting schools across Inuit Nunangat to deliver workshops about cannabis use, its effects, and how to reduce harms.
Following the workshop in Nunavik, youth participated in a contest to create posters for other Inuit youth, sharing information or messaging about cannabis use. These are our winners!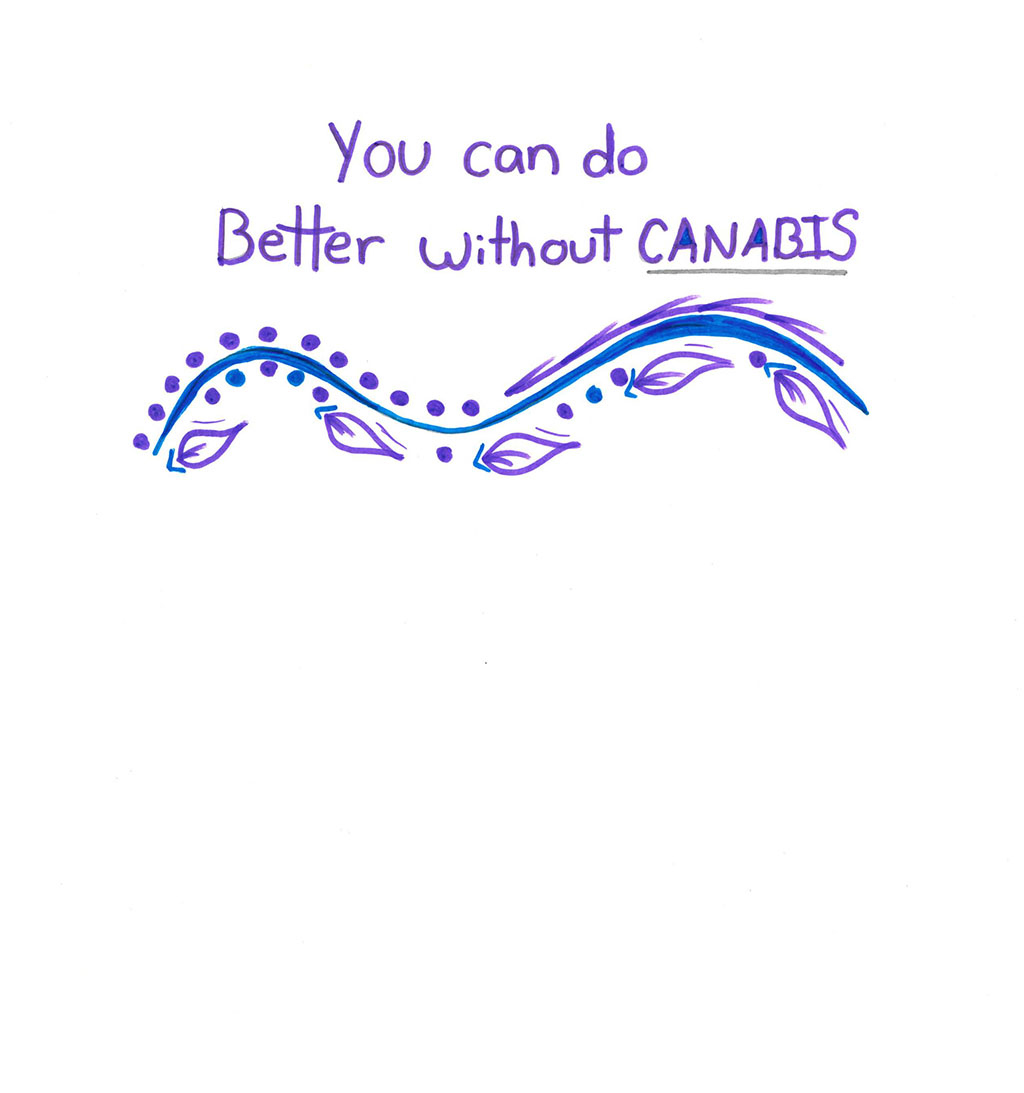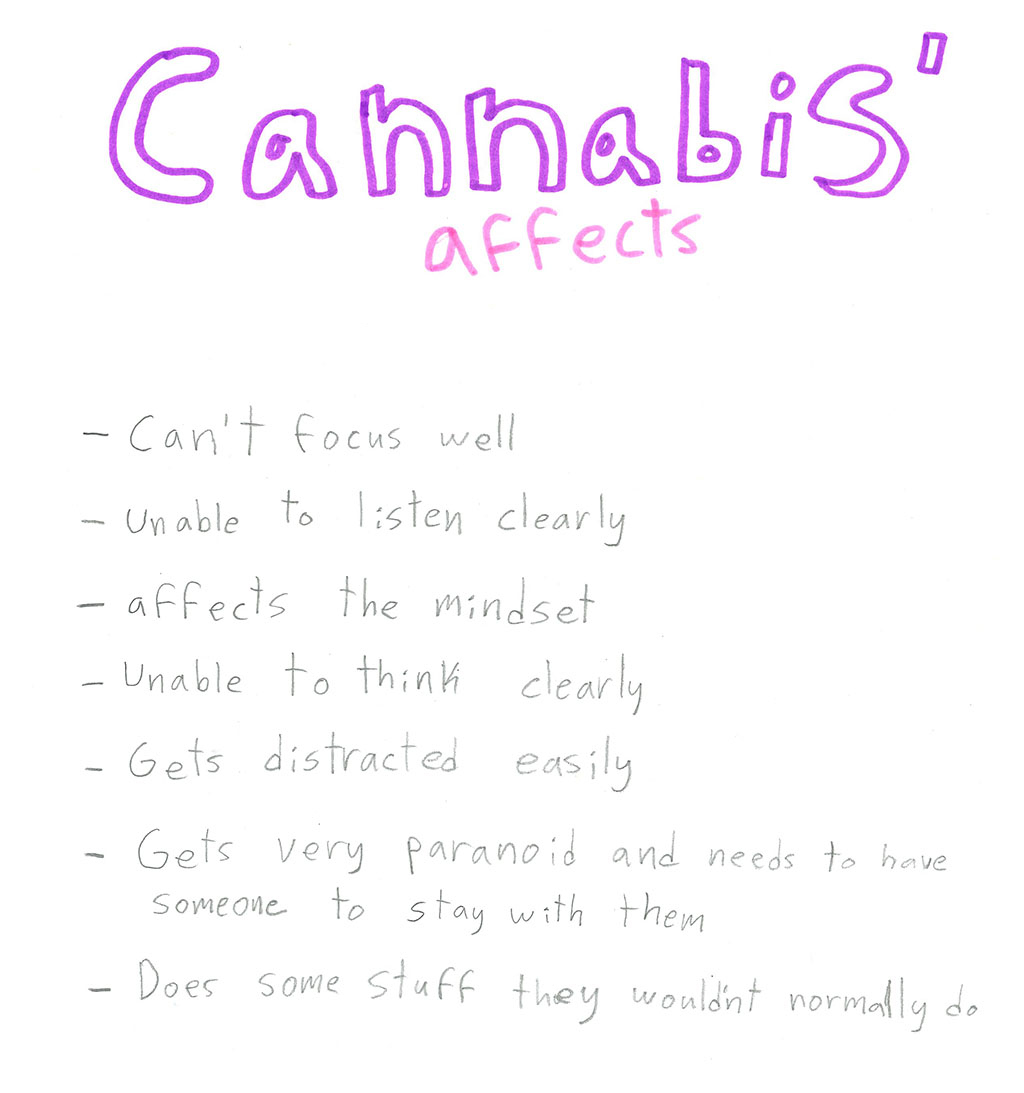 Let's Talk About Ujarak: Cannabis Harm Reduction Toolkit is now available!
This Inuit specific toolkit was created for Inuit youth, expecting parents, and families to better understand the facts and myths about cannabis and how to reduce possible harms and promote healthy families and communities.
The toolkit was developed using what Pauktuutit learned in Phase 1 engagements with Inuit on their knowledge, attitudes and beliefs about cannabis use with input from the Inuit Cannabis Advisory Committee and youth members. This toolkit aims to fill gaps in knowledge and understanding about cannabis using a trauma-informed and strength-based approach with Inuit values and knowledge at its core.
Visit the Let's Talk About Ujarak: Cannabis Harm Reduction Toolkit link to learn more!
The first phase of the Cannabis in our Communities Project is now complete! Scroll down to see what we did in Phase 1!
Cannabis in Our Communities: A Focus on youth and maternal health and well-being.
With the Cannabis in Our Communities project, Pauktuutit is responding to Inuit need for accurate, useful, and relatable information about cannabis and its use. Given the recent legalization, assumptions may be made about the health and safety of cannabis, it is essential to have the facts to make informed decisions about cannabis use. Scientists do not yet know all the effects (good, bad or otherwise) that cannabis has on our mind and body. However, we do know that using cannabis during youth and pregnancy can be risky, as it can interfere with the normal development of our brains and babies.
Our Goal
The overall goal of the Cannabis in Our Communities project is to reduce the possible harms associated with cannabis by informing Inuit of them, thereby promoting Inuit youth and maternal health.
Our Approach
We will use a holistic, gender and trauma-informed, strength-based approach, characteristic of Inuit to complete this research project. The focus will be on increasing awareness, reducing stigma, and harm reduction, rather than abstinence.
Our Plan
We have engaged with expecting or young Inuit parents and youth through focus groups, online surveys and interviews across Inuit Nunangat and urban centres. We have gathered some knowledge, attitudes, and behaviours regarding cannabis. This has helped us find out what gaps in knowledge and resources Pauktuutit can help fill while building on best practices already taking place.
We are creating resources addressing these needs and gaps and will share the information and resources we create with individuals and service providers across Inuit Nunangat to equip and empower Inuit to make healthy and informed decisions about cannabis use.
Finally, we will revisit communities and urban centres engaging with individuals to see if and how views, beliefs and habits around cannabis have changed and how we can continue to support Inuit around cannabis.
By determining what strategies work for Inuit in different age groups and settings, these strategies can be improved and applied to promote youth and maternal health outcomes regarding cannabis use.
What we accomplished in the first phase
Download Discussion Starters (PDF)
Stay tuned for upcoming resources and tools to support your knowledge and decision making around safe cannabis use.