While both Inuit men and women experience violence, research shows that Inuit women experience significantly higher rates of violence. Gender-based violence is violence targeted at someone because of their gender and disproportionately affects women. This type of violence is rooted in the power inequality between women and men and is maintained by social norms and gender stereotypes. Violence can include physical violence, sexual violence, threats of physical or sexual violence, and psychological/emotional abuse.
Family violence continues to be a significant social and health issue facing Inuit. The rate of violence experienced by Inuit women, at 14 times the national average, is higher than that experienced by any other group of women in Canada. The violence experienced by Inuit women is contributing to multi-generational and inter-generational trauma.
Given the devastating effect violence has on women and girls and the impact it has on our communities, our efforts are focused on protecting women and girls from abuse by promoting healthy relationships and supporting those who have experienced violence by increasing access to resources to help them heal.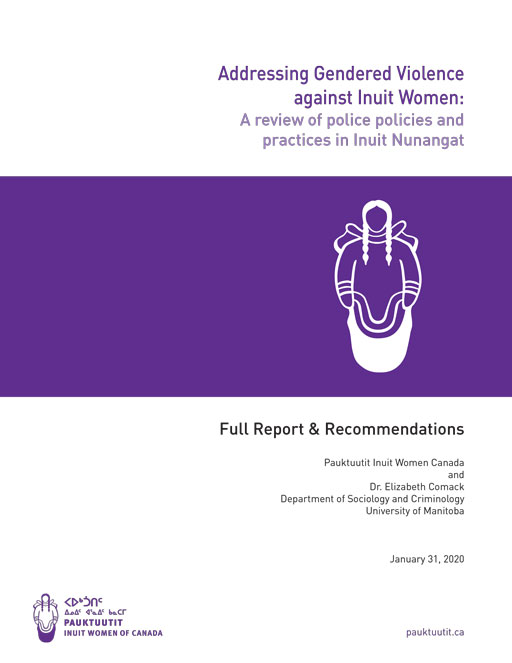 Addressing Gendered Violence against Inuit Women: A review of police policies and practices in Inuit Nunangat
Full Report and Recommendations
ᓵᙵᔭᖃᓐᓂᖅ ᐊᐃᑉᐸᒥᓄᑦ ᓂᖓᐃᔭᖅᑕᐅᓲᖏᓂᖏᓄᑦ ᐃᓄᐃᑦ ᐊᕐᓇᖏᑦ: ᕿᒥᕐᕈᔭᐅᓂᖏᑦ ᐸᓖᓯᒃᑯᑦ ᐊᑐᐊᒐᖏᑦ ᐃᓕᖅᑯᓯᕆᓲᖏᓪᓗ ᑕᒪᒃᑯᓄᖓ ᐃᓄᐃᑦ ᓄᓇᖓᑕ ᐃᓄᐊᓂ
ᐅᓂᒃᑳᓕᐊᖅ ᓇᐃᒡᓕᒋᐊᖓᔪᖅ ᐊᑐᓕᖁᔭᐅᓯᒪᔪᓪᓗ