Awards celebrate the inspiring achievements of Inuit women
OTTAWA, February 11, 2021 – A researcher investigating a public health intervention that promotes food security and an anti-suicide social media influencer were named Inuk Woman of the Year and Young Inuk Woman of the Year respectively by Pauktuutit Inuit Women of Canada (PIWC) at its recent Annual General Meeting.
"These awards recognize and celebrate the best qualities of Inuit women," said Rebecca Kudloo, President of Pauktuutit. "After such a tough year with the pandemic, our communities needed examples of strength and resilience more than ever, and we found it in the inspiring leadership and achievements of these two women."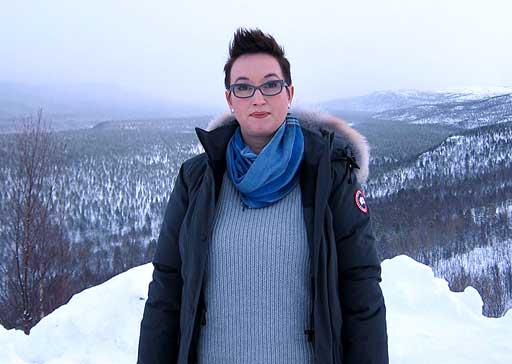 In the over age 36 category, Sharon Edmunds was named Inuk Woman of the Year for her commitment to building scientific knowledge in the North among Inuit and her determination to help establish a testing service to ensure Inuit 'country food', specifically walrus, is clear of a parasite that causes disease in humans.
Originally from Nunatsiavut, Edmunds is currently completing her Ph.D. in Population Medicine at the University of Guelph, where her work is benefiting all Inuit. She is conducting ground-breaking research on the prevention of human infection from the parasite Trichinella, a microscopic roundworm that can infect walrus meat that Inuit traditionally eat raw.
"I want to arm Inuit with knowledge about the parasite and the existence of a test that limits the potential for developing Trichinellosis infection in people and communities," says Edmunds. Symptoms in humans can be moderate to severe: nausea, stomach pain, diarrhea, fever and sometimes death can result in the most serious cases of the infection where lots of larvae are consumed.
"Trichinellosis has been called a 'neglected infection among Indigenous Peoples of the Arctic', so between my research and winning this meaningful award I'm able to shine a spotlight on it to raise awareness," explains Edmunds.
Nunavut's Annie Buscemi was named the inaugural winner of Young Inuk Woman of the Year, presented for the first time in a category for those aged 16-35. After a misdiagnosed hand injury left this apprentice electrician struggling with anxiety, in October 2020 she began posting Inuit-specific 'Reasons to Stay Alive Today' on several social media platforms, quickly earning her more than 10,300 followers on TikTok alone.
"Not working was very tough and affected my mental state," says Buscemi. "Scrolling through TikTok, I came across someone in the U.S. listing reasons to live until mental health services are universally affordable and accessible. That certainly applied to Nunavut, so I decided it would be great to recreate it as Inuk-specific."
Buscemi's engaging and encouraging manner incorporates aspects of Inuit culture into her daily affirmations. "I hope to bring a once-dying culture back to life," she explains. "I know some Inuit youth who really struggle with their identity, so I love to point out unique aspects of our culture that we can find strength in."
Buscemi credits her followers with keeping her going, and clearly the support is mutual. "The most moving thing for me is when someone from my small hometown of Kimmirut takes the time to tell me the daily posts really helped them," she says. "It gives me a feeling I'm unable to describe."
"Pauktuutit's recognition of me with this Award means the world to me," said Buscemi. "When I started listing reasons to stay alive, I never realized it would have this much of an impact, on myself and on others."
-30-
Pauktuutit Inuit Women of Canada is the national non-profit organization representing all Inuit women in Canada. Its mandate is to foster a greater awareness of the needs of Inuit women, and to encourage their participation in community, regional and national concerns in relation to social, cultural and economic development.
For more information, please contact:
Betsy Kitchen on behalf of Pauktuuti
betsykitchen@rogers.com / 613.297.4955